Minto West Development, the latest battle in the ongoing "Browardization" of Palm Beach County proposes to plunk down intense residential/commercial onto a 3,800 acre orange grove. 
The folks who already live out there ride horses down unpaved streets.  The Palm Beach County land use plan currently allows about 3,000 homes to be constructed; however, Minto West, like most Florida developers, wants more density.
The developer initially asked for an upzoning to 6,500 units and 1.4 million square feet of commercial space—more than double the current allowed density.  A hue and cry arose from residents who don't want their rural ambiance to be swallowed in a sea of urbanization.  In the face of community anger Minto West has revised its proposal to a new density of 4,549 houses and 2.1 million square feet of commercial.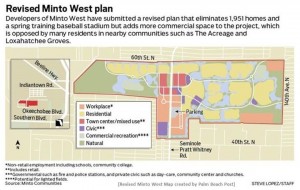 Unlike many Florida counties, Palm Beach County has impact fees paid by the developer to offset the costs of new development.  They average about $10,400 per new single family residence.  Most of the impact fee is for roads–$7,280.56 per single family house.  If Minto builds only single family houses, the impact fees will be $47,309,600.  These fees will almost offset the one-time road cost, but impact fees don't cover ongoing sprawl charges.  Impact fees are often negotiated downward by the developer; so it's important to ask what they actually are for Minto West.
This is a good opportunity to apply the sprawl calculator.   Let's run the numbers:
Added Sprawl costs for the new development (residential only):
Annual Costs

Type of Cost

At Build-out for 4549 houses

Per house

How POS.com computed & comments

Schools

-$34,244,872

-$7528

[# houses X .7 children per house* X $10,754 per student]

Fire

-$1,232,779

-$271

[# houses X  $271 per house for fire service]

Police

-$1,660,385

-$365

[# houses X $365 per house for police]

Est'd property tax paid

+$12,186,771

+$2,679

At the County average of $275,000 per house.  Est'd property taxes shown for illustrative purposes only.  Their taxes do not all apply against costs of services.

Subtotal Annual Cost Deficit

-$24,951,265

-$5,485

Paid by all taxpayers in the county outside the neighborhood.

One time cost

 

Roads

-$42,378,484

-$9,316

Road costs [# houses X  $9,316 per house] are one time only, not including maintenance

Impact fee

+$33,121,269

+$7,281

Stated Palm Beach Road Impact Fee, often negotiated down, ask what is the actual amount

One Time Road Cost Deficit

-$9,257,215

-$2,035
* Florida statewide average; 2010 census
How do impact fees fit in? The school, fire and police impact fee is a partial offset for one year—the initial year after construction, and is paid incrementally, as each contingent of houses is built.
| | | | |
| --- | --- | --- | --- |
| Impact Fee | At Build-out for 4549 houses | Per House | Comment |
| Schools, Fire, Police | +$14,192,880 | +$3,120 | Stated Palm Beach School, Fire, Police Impact Fee, often negotiated down, ask for the actual amount. |
If Minto West is approved to build 4,549 houses, the Price of Sprawl Calculator computes that the road cost to Palm Beach County is $9.25 million (not including maintenance) net after estimated impact fees to the county taxpayers.    At build-out Minto West's annual sprawl charge to taxpayers for schools, police and fire will be $25.0 million.
Please note we are excluding costs for many of those amenities we associate with the traditional American middle class community such as parks, libraries, and athletic fields.  Also not included are costs of water, sewer, and waste management—all services provided at taxpayer expense.
The median property tax on a house in Palm Beach County is $2,679.00 based on the average home value of $275,000.  Unless each house sells for about $800,000, a significant sprawl deficit will accumulate very quickly and grow year after year.  This charge will be the taxpayers' burden.
Crunch the numbers, ask the questions and focus the discussion on the costs to YOU the taxpayer.  Why should taxpayers pay for sprawl they don't want?