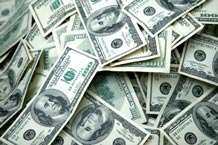 Farmton is a planned mega-development in Volusia and Brevard counties with 23,000 houses and 4.7 million square feet of commercial space.  At build-out, it will be the size of Deltona.  It is planned for a pristine rural area–  home to endangered plant species and wildlife –black bear, fox, and possibly the Florida Panther—species who need room to roam, to feed and raise their young.  The Farmton Development will be built in and around the biggest mitigation bank in the US, the Farmton Mitigation Bank.
You can do the math.
Use PriceofSprawl.com numbers to provide a well rounded picture of what this means to you, the taxpayer.
Vacancy rates in Volusia and Brevard Counties are 7 to 13% without consideration of the additional overdevelopment already approved and unbuilt, and Farmton would add to that.
Property value decline in the last five years in the area is 46-48% as of 2nd quarter 2012.  Additional building would further decline property values in a high vacancy/oversupplied market, and likewise declining property values lower tax collections that can be used for infrastructure and services to all residents.
Infrastructure costs for residential building that requires roads, schools, safety services, etc which, are only partially paid for by the builder, with the rest subsidized by existing taxpayers.
Schools for children of Farmton residents will cost more than $115 million for school construction alone; $74.6 million annually ($9794/student/yr*7623 students) for operating and construction costs per year.  Typically a builder will contribute the land for the school, but school construction and equipment (land and equipment is not included in the $115 million) is at taxpayer expense.  The new residents will pay for operating costs of schools, but

all

taxpayers in the county pay for school construction.
Roads cost $9312 per dwelling unit for roads in and near the urban service area.  For Farmton, it computes to $214 million ($9,312*23,000 dwelling units), a low estimate due to the fact that Farmton, a totally sprawl development, will need all road infrastructure, not just an incremental add-on like in other places.  Recognizing that your tax dollars will subsidize these roads, does your neighborhood need road improvements? Do you want your tax dollars to go to Farmton's roads?
Population size:  The impact of this mega development will be big, and it is not needed.  For example, Deltona and Port Orange have already each approved enough development for 50% more people than they currently have.  Unincorporated Volusia County has approved development for 79% more people.  These housing units will need roads, schools and safety services etc. in addition to the Farmton development population.
Water supply in the area is already running low as the water supply map indicates; and the water use from Farmton development from 23,000 homes and 4.7 million square feet of commercial space will further deplete the water supply.
Quality of life in your neighborhoods will decline as your tax dollars are used in new neighborhoods when your own neighborhood may need roads, schools, safety services.
These estimates are low because sprawl development is much more expensive than in town development because no infrastructure is in sprawl areas.
You already know that sprawl development is detrimental to your community, but now you can figure out the real price to taxpayers to share with your neighbors, community groups and elected officials.